Fortune 500 Fiber Optics Manufacturing Facility Meets Stringent Regulations with SAMCO's Wastewater Treatment Plant Design
When a Fortune 500 fiber optics manufacturing facility in New York was challenged to meet rigorous discharge quality regulations, they consulted SAMCO for an innovative solution.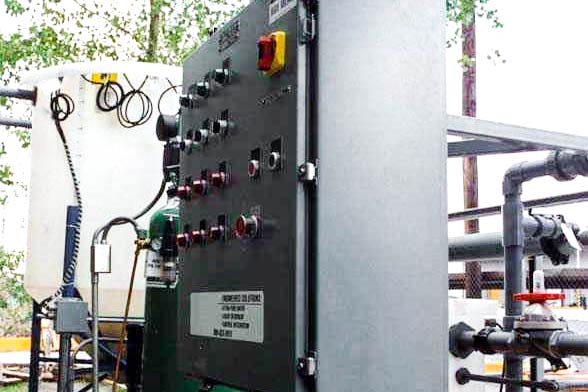 Provide the customer with a detailed design that reduces wastewater pollution and enables wastewater recycle/reuse including:
Superior removal of total suspended solids (TSS)
Total dissolved solids (TDS) to 500 ppm
Fluorides to 3 ppm
Chlorides to 250 ppm
The client worked with SAMCO to develop an effective solution that comprised a detailed plant survey; treatability, P2, and waste minimization studies; concept development; project estimation; and process design/project engineering.
Complex contaminants and varied flow
Stringent discharge limitations
Plant expansion with added wastewater volume
Critical application requiring high uptime
Reduce O&M costs
Fast-track project, concept to completion
Achieving up to 70% recycle/reuse, and up to 95% waste reduction, SAMCO's design provided the client with plans for a high-recovery wastewater treatment plant that utilized fluoride precipitation, suspended solids coagulation, high-recovery reverse osmosis (RO), and sludge handling/ dewatering to treat waste gas scrubber blowdown water for quality-compliant discharge. RO evaporation maximized client's ROI with a one-year payback via energy savings and waste reuse, while a modular design enabled quick and easy installation with guaranteed performance and future add-on capabilities. Clean-in-place technology simplified membrane maintenance, saving the client both time and cost, and to compensate for minimal operator availability, SAMCO included programmable logic controllers (PLC) with remote telemetry that automated monitoring of flow, temperature, pressure, and resistivity.
Project concept and design included:
Equalization tanks
Influent pumps
Chemical feeds
High-recovery RO filtration
Evaporation system
Sludge handling/filter press
Recycle pumps
PLC Controls with remote telemetry