How does an EPC project work?: Understanding turnkey construction contracts
Without proper management, even the smallest construction projects can quickly devolve into wasted time and money. With so many moving parts, major construction projects can certainly seem daunting due to all the risks that come with them.
Engineering, Procurement and Construction (EPC) contracts are a type of delivery model designed to take pressure off the owner. Under an EPC contract, buyers hire a contractor to design, plan, and execute a project from start to finish. The contractor assumes responsibility for delivering a turnkey system or facility in line with agreed-upon quality standards, timeline, and budget. In this way, the buyer is able to offload much of the time, effort, and risk involved in a construction project onto a trusted contractor.
So what can an owner expect during an EPC project? Here, we'll take a look at the major phases of an EPC project, and discuss some of the best practices that a qualified EPC firm may use to keep a project on track.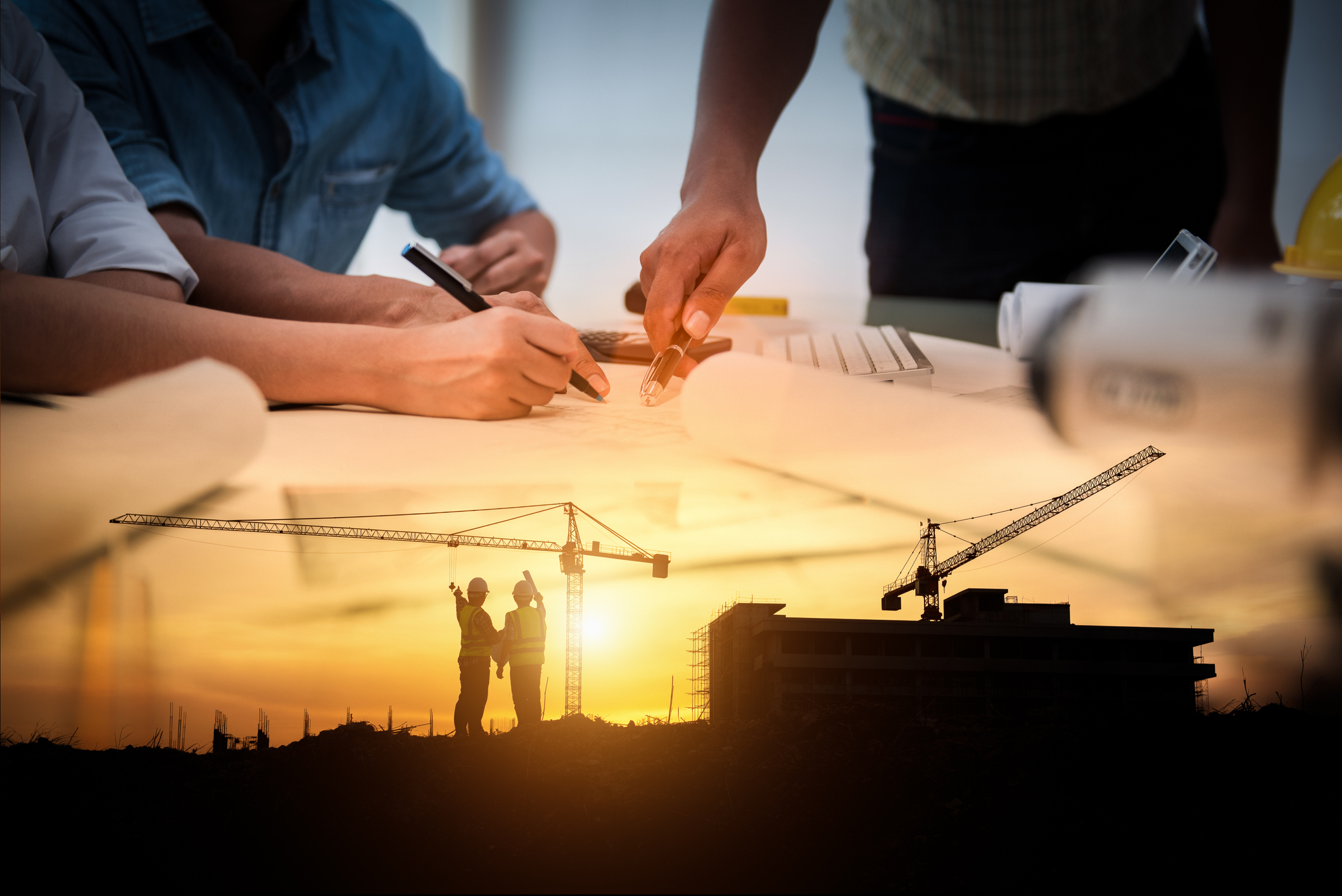 Major phases in an EPC project
EPC projects get their name from the major services provided during the engagement—that is, engineering, procurement, and construction. In addition to these services, the project will also require planning at the start of the project, and startup services at the end. Exactly how these phases are broken down will depend upon an EPC contractor's internal practices and delivery mechanisms, as well as the nature of the individual project. Having the EPC contractor perform all of the services provides the simplest turnkey delivery experience for the owner. It's also common for project phases to overlap, especially for projects undertaken by experienced EPC firms. Read on to learn more about each of these phases, and the common activities, objectives, and deliverables associated with them.
Planning
The early planning phases of a project may be called by many names, such as front-end planning (FEP), pre-project planning (PPP), front-end engineering design (FEED), front-end loading (FEL), or others. All of these refer to early project planning steps that are done in order to establish the rough scope, budget, and timeline for the project, develop a solution concept, and identify risks. For some projects, this is completed jointly by the owner and an EPC contractor. In others, the owner works with a consultant to complete pre-project planning before gathering lump-sum bids from EPC firms.
Many EPC projects use a front-end loading (FEL) procedure, which provides a structured process to help owners explore their options at a conceptual level before choosing a solution and refining the design. The advantage of this method is that it allows owners to consider different approaches, design modifications, and other changes early on. This minimizes the risk for change requests later into the project, when they become more costly and disruptive to execute.
The FEL process is broken down into three levels, with formal approvals at critical junctures. At FEL-1, owners will review conceptual designs and select one to move on to FEL-2, where the owner will consult with engineers to review concepts, estimate costs, make changes, assess feasibility, and provide approval to move forward. In FEL-3, the concept then proceeds to front-end engineering design (FEED) or basic engineering, where it is fleshed out to produce a more accurate cost estimate and construction timeline that aims for accuracy within ±10-15%. 
These early planning stages are themselves a best practice for large construction projects, as they produce the foundation on which the project is built. That said, working with a qualified project manager is important here, as are the following best practices for success in the front-end planning phase:
Establish a clear objective. Carefully define project objectives so that all stakeholders can easily understand key project goals and the owner's priorities.
Identify changes early. Especially for large capital projects, a good consultant or EPC partner will use FEL or similar procedures to allow owners to explore their options early on and make critical decisions at a point in the project where design changes can be made easily and affordably. Owners should carefully consider each element of the design and any implications that it might have on performance, space, cost, timeline or other factors.
Engineering
The detailed engineering and design phase focuses on producing comprehensive engineering plans for construction of the system or facility. During this phase, the EPC contractor will continue to develop the concept from earlier planning phases into a full-fledged deliverable package complete with functional descriptions, building plans, structural/civil layouts, as well as diagrams of piping, controls, instrumentation, electrical, and mechanical components. Because of the complexity involved, the detailed engineering process is typically a collaborative effort across various individuals, departments, and subject matter experts.  As the design is finalized, details regarding the specific types of equipment, quantities, and layouts will become clearer. The EPC contractor will use this information to pin down a more exact project budget and timeline for completion.  
Most of the best practices at this phase are focused on strategies to produce high-quality plans, and minimize the risk for costly and disruptive changes during later phases. That said, here are some key tips for success during the detailed engineering and design phase:
Work with contractors who have good engineering resources. Owners should look for contractors who have experienced, in-house engineers, and/or partnerships with vendors who can provide relevant engineering services and subject matter expertise.
Look for interdisciplinary collaboration. Detailed designs should be developed and reviewed by engineers and process specialists, of course, as well as staff from other disciplines. The procurement team can provide input to facilitate strategic sourcing, for example, and the construction team can evaluate the plan for constructability. Cross-team collaboration will result in an optimal design, and ensure that any potential issues are caught and addressed early to avoid scheduling delays and cost implications later on.
Maintain good communication. To ensure smooth performance at this phase and beyond, project stakeholders should establish clear communications and change management policies and procedures so everyone is on the same page.
Procurement

The procurement phase of the project is where the EPC contractor gathers all of the physical materials and services needed to build the facility or system to spec. This is a complex process that entails sourcing and purchasing a variety of equipment, materials, and services from vendors and suppliers. Procurement is often done through competitive tender or bidding processes, where the EPC contractor publishes specifications and invites suppliers to submit their offers and pricing.
Here are some tips for success during the procurement phase of an EPC project:
Source strategically. Some system components and materials have long lead times, and need to be prioritized early in the procurement schedule so that they are ready when needed. The contractor will also need to practice good communication with suppliers to ensure quality of purchased goods and on-time delivery.
Create detailed timelines. The main goal of procurement is ensuring that construction teams have what they need, when they need it. Creating detailed timelines to plan out purchases and deliveries will ensure that stakeholders know what to expect, and can identify potential scheduling issues before they result in delays.
Construction

The construction phase of an EPC project is where the contractor builds the facility or system based on the specifications established in earlier phases. This may entail pre-fabrication of system components off-site in a fabrication shop and transporting them to the construction site, building the proposed system on-site at the project location, and/or integrating various components together at the site. The EPC contractor may have its own fabrication facilities, or it may contract fabrication work out to a vendor—either approach is acceptable so long as good communication is maintained throughout the project.
Good project planning at earlier phases will allow for a reasonably smooth construction process with minimal issues or delays. Still, there are a few tips for success during the construction phase of an EPC project:
Manage changes. Change management protocols should be established in earlier phases of the project, and should provide criteria for assessing the appropriateness of a change, as well as guidance for executing and documenting change requests to clearly communicate impacts to cost and timeline, and ensure stakeholders are kept informed.
Seek input from the design team. During the construction phase, the design team should continue to participate in the project to clarify elements of the project plans and assist with handling change requests.
Commissioning and start-up

Before a facility or system can be turned over to the owner, a number of commissioning and start-up tasks must be completed to ensure that the system or facility functions safely and as expected. The first of these activities is pre-commissioning, which is usually performed by the fabricator, and entails testing and cleaning of any system units, flushing pipes, and checking for leaks. Next up are commissioning tasks, which include testing of safety mechanisms and controls, as well as calibration, integration of system controls and components, and remediation of any issues found. For safety reasons, testing at this stage typically done with inert substances like water and air rather than process chemicals. Finally, the project will move to start-up services, which include tasks like bringing new equipment and systems online, testing performance, and turning operations over to the owner.
Key tips for success during the commissioning and start-up phase include:
Verify responsibility for startup tasks. Commissioning and startup services are usually—but not always—included in an EPC contract. Before the project even begins, owners should be sure that they understand exactly what startup services their EPC contractor is providing.
Plan ahead for operations. Be sure to procure any consumables, spare parts, process chemicals, filtration media, lubricants, and calibration tools needed to operate and maintain the new system(s).
Provide adequate staffing. The startup process for a new system will have a learning curve, so owners should plan for enough staff to cover unexpected activities, like additional performance or lab testing, corrections, and manual operation.
EPC contracts can be a great choice for owners looking to minimize the burdens of a construction project. Knowing what to expect can help an owner decide if the EPC approach is the right choice for their project, and what to look for in an EPC contractor.

To find out more about any of the engineering, design, lab tests and pilot studies, fabrication, installation, and ongoing support services that SAMCO offers, please feel free to contact us. You can also visit our website to set up a call with an engineer, request a quote, or click on over to our blog to learn more about process purification and separation systems, wastewater treatment systems, industrial water conservation strategies, and more.